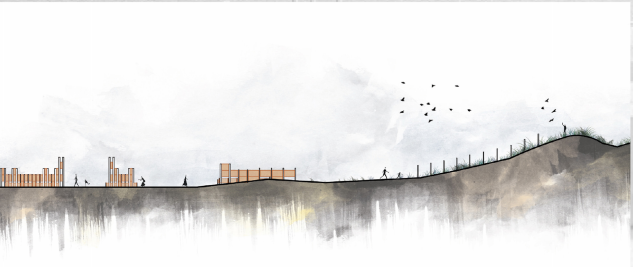 Aeolis – Gap the Border
q4elective - landscape architecture On site
Delft University of Technology
Teaching staff.
Supervisor: dr. René Van der Velde, Janneke van Bergen,Michiel Pouderoijen.

Students.
Authors: Niels van Hesselt, Jui Deuskar, Thomas Zaw, Isabella Banfi, Elissavet Markozani, Anna Saracco, Shui Shao, Chang Guo, Marleen de Groot, Sophie Vrisekoop, Jorren Verheesen, Evi Goedemans, Purvika Awasthi, Anne de Jong.
As part of an elective module, a group of master students at Delft university of technology designed and built an installation for the Oerol cultural festival on the island of Terschelling in the Netherlands. They developed a project to harvest wind-borne sand and aid dune formation to tackle sea-level rise. A mosaic of hessian screen aligned at various angles and supported on an array of poles of different heights engaged the dynamics play of wind and sand to form a pattern of embryonic dunes.
The project takes a different approach than conventional dune defence by revealing and engaging natural forces and anthropocentric practices that have shaped the island over centuries. Seen from the air, the installation traces a zigzag 'stitch' across the beach at the point where the island was once divided in two. As such the screens invoke the sails of ships which might have once passed through the passage, and at the same time creates an experiential 'infographic' of dune formation and innovative coastal defence.