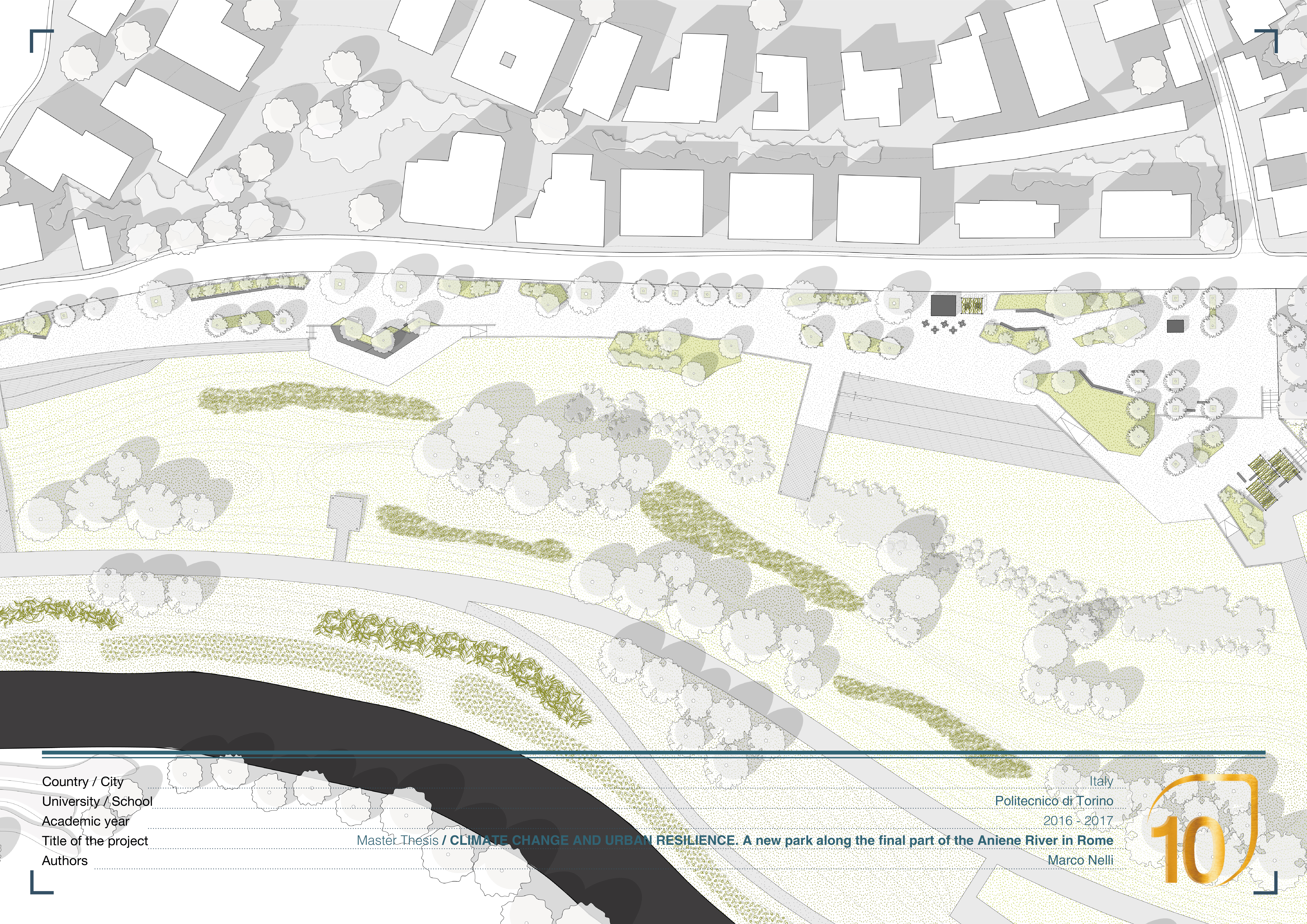 CLIMATE CHANGE AND URBAN RESILIENCE. A new park along the final part of the Aniene River in Rome
Master Thesis
Politecnico di Torino
The park project, which is the subject of my master thesis, investigates the environmental risks mitigation and climate changes adaptation. In particular, it refers to danger situations both in urban and extra urban areas, due to the problems connected to flood risk and extreme weather events.
The area I have considered is the Natural Reserve of Aniene Valley and the stretch of the river that crosses the city of Rome, between the GRA and its confluence with the Tiber River. This is a notoriously area prone to repeated and increasingly frequent flooding. The project purpose is to develop a capable system to provide the whole area a better place to live in, in order to make possible the use of the resource water, without neglecting safety in case of extreme natural events. That's why the recovery of ecological quality and the upgrading of urban, extra-urban and rural areas near the river, represent useful planning opportunities to create new spaces, capable to provide both renewed recreational and regenerated ecosystem functions.
The design proposal aims to put into effects the teachings for an innovative and sustainable park design that turns out to be resilient to climate changes. The particular design solutions introduced are also intended to reconcile the relationship between river and city, where the winning idea has been to consider natural events no more problematic but as an opportunity for new experience sources.
Inter-University Master in Green Areas and Landscape Design (Politecnico di Torino, Università degli Studi di Genova, Università degli Studi di Torino, Università degli Studi di Milano)