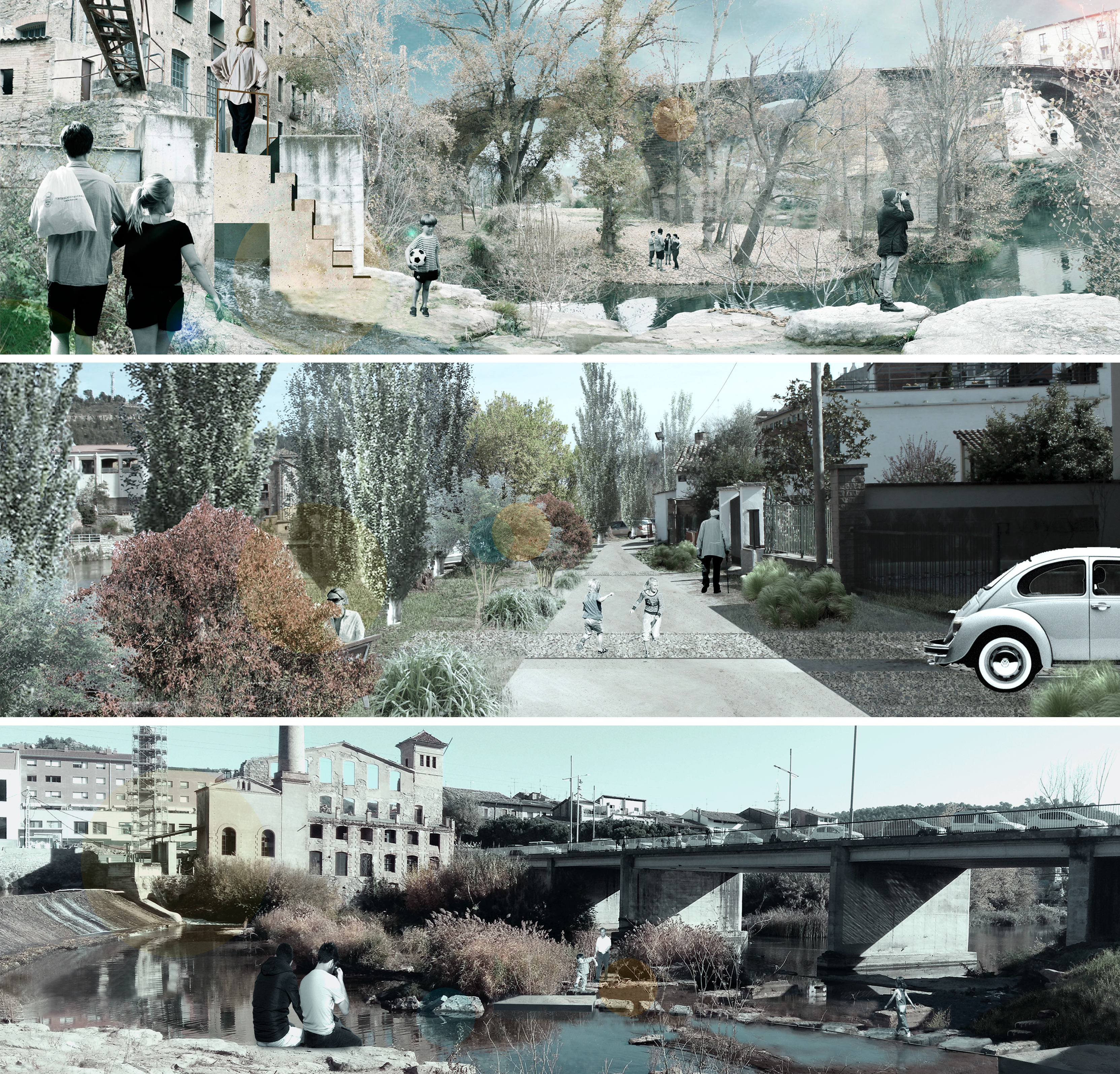 Steps into the river
Master's degree in Architecture Vallès School of Architecture. ETSAV
Universitat Politècnica de Catalunya - UPC
The project is located in Sallent Municipality, crossed by river Llobregat. We are dealing with a river mecanized and domesticated by the old industry, which has lost his strenght as a natural axis. The aim of the project is to repare the existing discontinuities along the riverbank, both natural and physical. This way, it's intended to recuperate the relation among the neighbours of Sallent and the river, as well as to restore
river Llobregat as a natural connector of biodiversity.
In the area of access to the river from the new bridge, the strategy consists in reusing the existing rocks as a passage through the river, evoking the old footbridge through a minimal and as natural as possible intervention. To do this, three reinforced concrete blocks are connected to each other by two cables in the form of a catenary, which join the existing rocks mentioned above.
Between the two bridges of Sallent, el Passeig del riu deals with the bad conditions of the road and the recent falling of the existings trees. The main project strategy tries to recuperate the riverbank environment introducing native species and resting spaces to enjoy the river and the views. From the begining it has had the aim to include the neighbours in the decision making regarding the project.
Close to the old bridge there is another dam that is nowadays not accessible for the neighbours. It is also a point of disconnection between the two riverbanks, and at the same time a good opportunity to reuse the preexistence as a connector.
The project strategy consists in providing the dam with two new access to cross over the river's level and enjoy that infrastructure as a natural space, given its great location in the village. The intervention tries to be as respectful as possible, using one single material (concrete) and changing only the last artificial  interventions, not touching the natural area and reorganizing that spaces through geometrical volumes.
Escola Tècnica Superior d'Arquitectura del Vallès - ETSAV