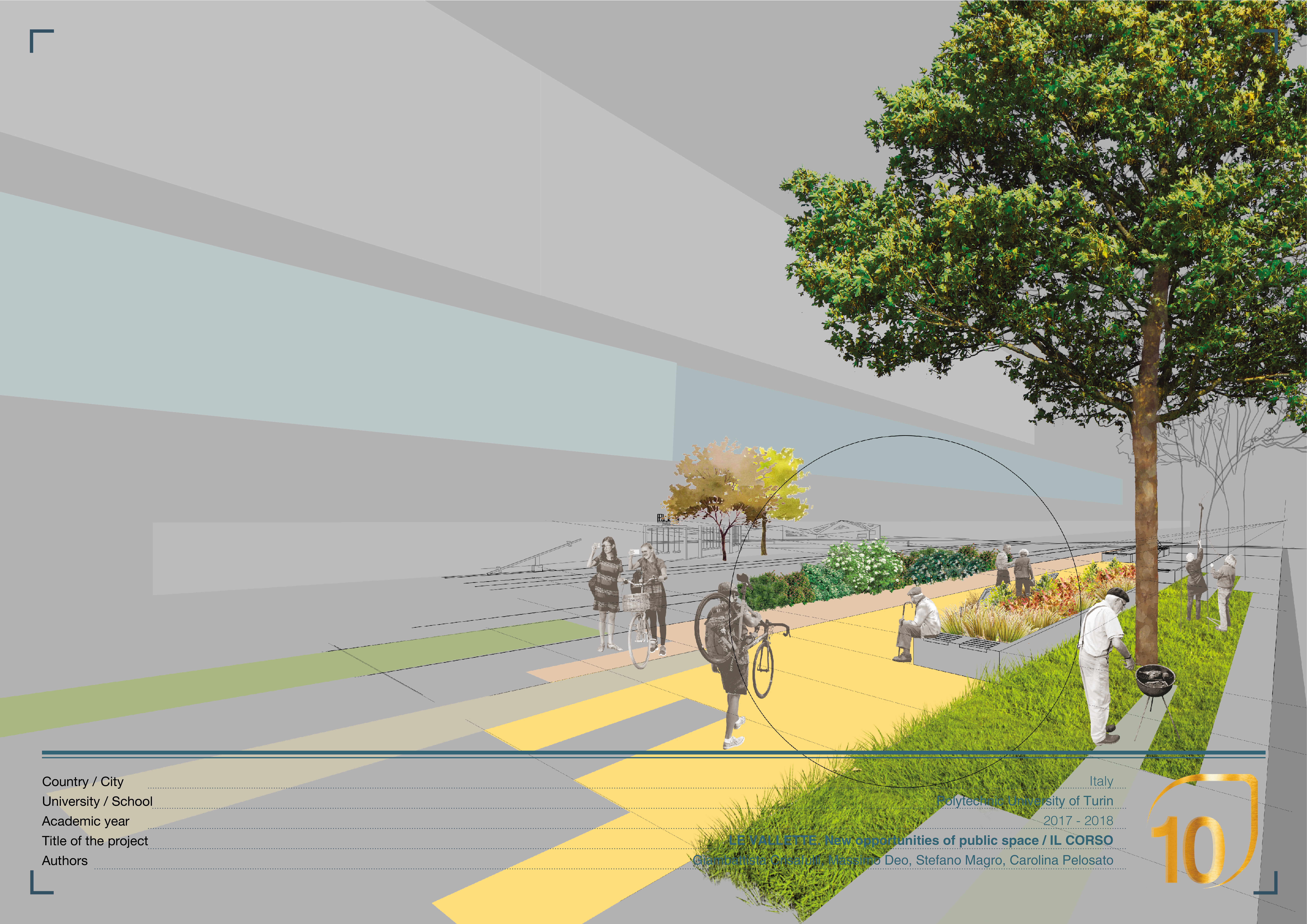 LE VALLETTE. New opportunities of public space / IL CORSO
DESIGN STUDIO: Urban Green Areas Design and Management
Politecnico di Torino
Brief: Designing a system of open spaces in the heart of 'Le Vallette', a district in the north-west of Turin.
Challenge: Facing a degraded, fragmented and socially fragile environment with as well a remarkable architectural context and responding to people's habits, expectations and needs.
Concept: From a Suburb to the city. Il Corso, the Italian promenade, as an urban experience token, has a central role in connecting all the different parts of the centre and re-connecting the residents to a neighbourhood they don't enjoy anymore. It's been thought to attract tourists too, especially the football fans, who go to the nearby Juventus stadium on Sundays.
Specifics: The main goal is to boost social life, get rid of barriers and heighten porosity, give to the same space different purposes and souls. Il Corso's rhythm is remarked by intersections with the central areas, allowing movement and stops and conferring a specific identity to the place.
Re-allocartion of buildings intended use: Ex schools: co-working and exposition space, for young artists, designers and architects; Mall: facilities, cafeterias and shopping centre; Square's: ground level - street food hub. upper level – bars and leisure spaces.
Rearrangement of open areas: Playground, park, square with a sloped lawn, daily market, outdoor cinema, skateboard park, football fields and basketball courts, patios and pergolas, co-working outdoor pods.
Plants choice: The design has taken into consideration the preservation of the existing natural environment and the new introduced vegetation is indicated in cases of low maintenance and water shortage.
Inter-University Master in Green Areas and Landscape Design (Politecnico di Torino, Università degli Studi di Genova, Università degli Studi di Torino, Università degli Studi di Milano)